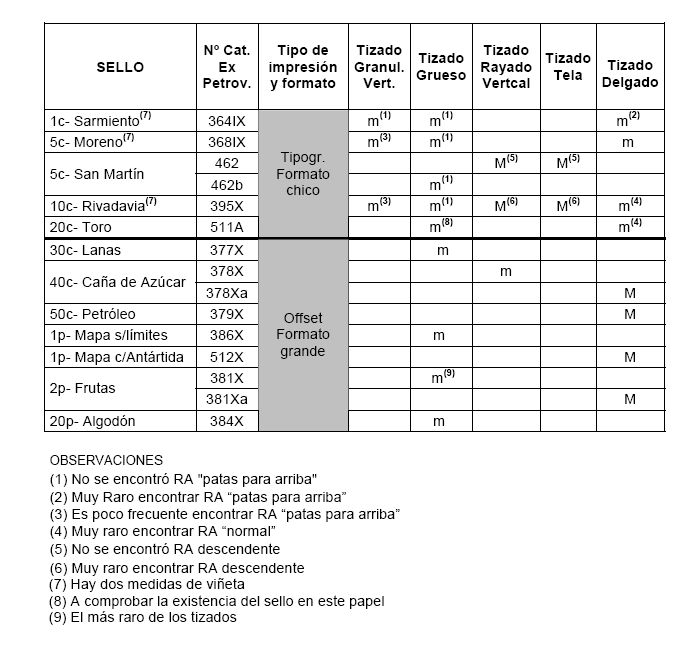 This table confuses me!
The CL1A was used on the 5c and 10c Rivadavia in 1939.
If that is the 'granulado vertical' there should not be a 1c issue.
The CL1B was used in 1943 on the 30c, 1p, 2p, 20p.
This has to be the 'grueso.'
It looks like Bardi is correct and that the 40c early clay is not CL1B.
I will look closely at my 40c dark color clays. I have several on cover.
The CL1B was also used on the 1c, 5c, 10c Rivadavia in 1943.
If that is the 'Grueso' there should not be a 20c Toro, which was used in 1951+.
I need to study the 5c San Martin red on clay paper to better understand the 10c clays 'rayado vertical' and 'tela.'
These are the intermediate clay paper I need to study also for the 40c dark clay and the CL2A.
The 'delgado' is the CL2B, and I agree with 10c to 2p, but not the 1c and 5c.
The 1c and 5c Moreno clays went out of circulation in the mid 1940s.
In summary, the following papers do not make sense:
'granulado vertical' 1c
'grueso' 20c
'delgado' 1c and 5c
There may be a new clay paper and that is the one used on the 40c dark colors clay.
This table omits the CL3, the thick clay paper used in the 1950s for the 25c 'Servicio Oficial.'